Nikon D3400


Overview
Take your first step into the world of DSLR photography with the new Nikon D3400 with SnapBridge*1 — the latest feature that automatically connects your pictures with the world. The D3400 captures every memory in stunning detail with ISO 100-25600, 24.2 megapixels, an 11-point autofocus system and features the ability to shoot Full HD 1080/60p videos. No matter the situation, whatever the occasion, the compact and lightweight D3400 is always ready to immortalise your most precious moments.
Key Features
24MP APS-C CMOS sensor
11-point phase detect auto-focus system
1080/60p video capability
Fixed 3″ 920k-dot LCD screen
5/fps burst shooting
Bluetooth LE for image transfer
Easily share impressive D-SLR pictures with friends: automatic image transfer to your smart device from the D3400
Imagine how easy it would be to post pictures online if they were saved to your smart device as soon as you took them. SnapBridge*1 creates a constant connection between your D3400 and a compatible smart device via Bluetooth®*2, meaning pictures are automatically transferred as smart-device friendly 2-megapixel images as you shoot. This communication isn't just one-way either: it offers added conveniences, including automatic syncing of the camera's time and location information to that of the smart device. The image transfer process continues unaffected even when you have the camera stored nearby in your bag nearby. You can also transfer original pictures by selecting manual uploading on the smart device app.
*1 SnapBridge can be used with a compatible iPhone®, iPad® and iPod touch® or smart devices running the Android™ operating system with the SnapBridge app installed. The app can be downloaded free from Apple App Store® and Google Play™.
*2 Bluetooth® communication is available when the camera is connected to a smart device with the SnapBridge app installed. Wi-Fi communication is not available. Note: Videos cannot be transferred from the D3400. Remote shooting using the SnapBridge app is not available. Optional ML-L3 Wireless Remote Control is available for this purpose.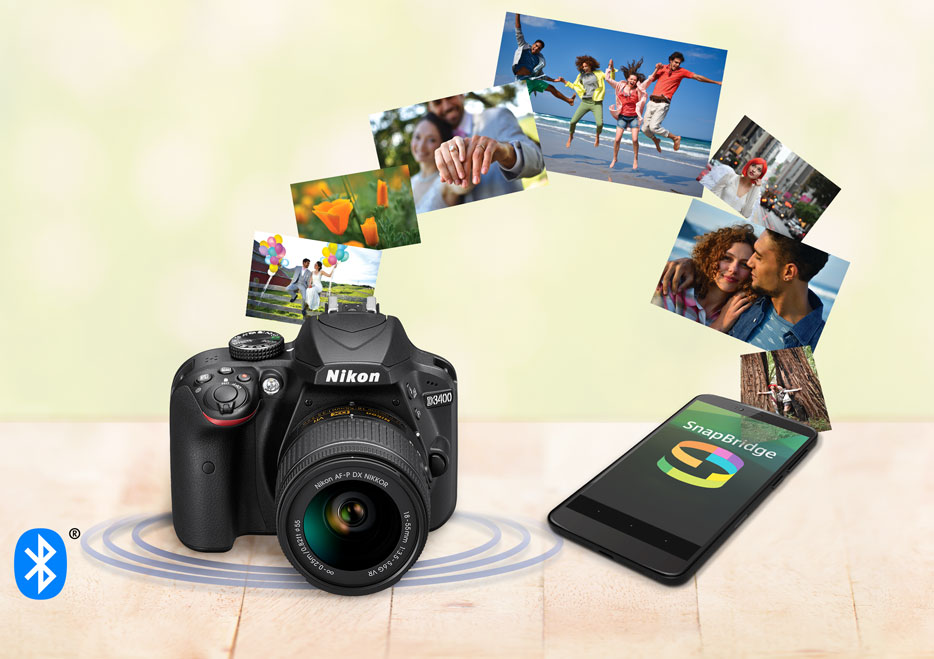 Download the SnapBridge app to get started
Take advantage of automatic picture transfers by downloading the SnapBridge app onto your compatible smart device now. The app connects the D3400 with a compatible iPhone®, iPad®, and iPod touch® or smart devices running the Android™ operating system. The app is available free from the official website (snapbridge.nikon.com), Apple App Store® and Google Play™.

Note: Android 5.0 or later or 6.0.1 or later is required. The iOS app release date on Apple App Store® will be announced as soon as determined. A device with Bluetooth 4.0 or later (i.e. a device that supports Bluetooth Low Energy) is necessary.
Establishing a connection is simple and you only need to do it once
Pairing your D3400 and compatible smart device is a breeze with SnapBridge. Simply follow the instructions given by the app and camera, and a connection will be automatically established between the two. What's more, the camera automatically detects smart devices that have been connected before, so you only need to go through the process once for each device.
Establishing connection – Step 1: When turning on the camera for the first time, this dialog box appears. Press OK to start pairing the camera with your smart device. You can also access this screen from the setup menu.
Establishing connection – Step 2: Launch the SnapBridge app on your smart device, follow the on-screen instructions and tap the name of the camera you want to pair it with.
Establishing connection – Step 3: Confirm the same six-digit authentication code on the camera and smart device display. To complete pairing, press the OK button on the camera and tap "Pair" on the smart device. *Some versions of iOS may not display the code. *Button name may vary depending on the smart device model.
Establishing connection – Step 4: These screens confirm you have established a connection between the camera and smart device.
Get your Nikon ID and enjoy free, unlimited automatic uploads of thumbnails to NIKON IMAGE SPACE cloud storage service
As soon as you connect your D3400 and smart device, you can register for your Nikon ID to receive unlimited online storage for thumbnail pictures on NIKON IMAGE SPACE for free. There, you can choose to upload thumbnail pictures automatically from the SnapBridge app. Nikon ID registration* automatically signs you up as a member of Nikon's online cloud storage service. In addition to the unlimited storage of thumbnail pictures, it gives you 20 GB of free storage for original pictures and other large images. Nikon ID holders can easily check the shooting history of the pictures they've uploaded to NIKON IMAGE SPACE. Nikon ID registration is easy, as your camera's model name and serial number will already be entered when you first launch the SnapBridge app. So sign up and take full advantage of SnapBridge!
*If you are a member of NIKON IMAGE SPACE, you can use the same ID and password for your Nikon ID registration.
Greater convenience through a growing range of services
The convenience of SnapBridge doesn't stop at automatic image transfers. The constant, advanced connection between the D3400 and a compatible smart device enables automatic syncing of time and location information and more. The menu of features will grow in the future, tapping into the rich seam of possibilities online — and making your image experience ever more rewarding.
Automatic updating of camera's time and location info
The D3400 automatically synchronizes its time and location Information to that of your smart device. This feature comes in handy when traveling to different time zones, as smart devices automatically adjust to the local time.
Two kinds of credit information can be embedded in pictures
You can embed up to two pieces of credit information in your pictures as they are saved on your smart device. These are selectable from: copyright, comments, shooting information, text and logo. This speeds up the process of sharing images online, ensuring you don't have to enter information every time you upload a photo.
Get a taste of D-SLR quality: Crisp action shots, portraits with soft backgrounds and more
If the pictures you take with your smart device leave you wanting more, just wait until you get your hands on the D3400. Images of indoor gigs and parties capture the best moments with minimal blur. Majestic landscape shots taken while hiking stay tack sharp even after aggressive cropping. Impressive portraits make your subjects stand out against beautifully soft backgrounds. Zooming in on distant subjects is possible without losing any image resolution. Thanks to a range of exclusive Nikon technologies, the D3400 lets you do all this — and much, much more.
Technologies behind the image quality: DX-format image sensor featuring 24.2 effective megapixels, EXPEED 4 image-processing engine, Picture Control system and NIKKOR lenses
The superb images you get with the D3400 are attained through a combination of unrivaled Nikon technologies working together. The D3400 achieves a wide standard sensitivity range of ISO 100-25600. Thanks to its EXPEED 4 image-processing engine, which effectively reduces image noise, you get clear pictures even in dark scenes. Harnessing 24.2 effective megapixels and the superb optical performance of Nikon's NIKKOR lenses, the camera renders your subjects in beautiful, crisp pictures. Finally, there's Nikon's image creation system, Picture Control, which helps make your images look even better.
Beautifully balancing light and shade: Active D-Lighting
In pictures of outdoor activities under the sun or a room with a bright window, the details and color gradation in a bright sky or dark shadows may sometimes be lost. But thanks to the EXPEED 4 image-processing engine, the D3400's Active D-Lighting preserves more tones in both areas, capturing moments with true-to-life brightness.
Adjust the atmosphere to fit your vision: Nikon's Picture Control system
Picture Control is Nikon's simple image creation system. The D3400 incorporates seven types of preset Picture Control — Standard, Neutral, Vivid, Monochrome, Portrait, Landscape and Flat — which you can select before shooting, according to the subject and situation. Each Picture Control option lets you fine-tune image characteristics, such as sharpening and contrast, depending on your own creative intentions.
All in all I think the D3400 is a fun and feature-packed beginner SLR that offers punchy, nice quality JPEGs with fantastic Raw performance for the price. The modest updates seen in the D3400 really don't make it worth making the jump from its predecessor but if you're a new or beginning DSLR user this camera is an excellent option to consider, bearing in mind of course that the camera does have its limitations with respect to its AF system, features and the overall control scheme.